What is a Brand Wallet?
When you sign up for an account at web.connectunited.com, you will be asked to create a Connect wallet. This wallet serves multiple purposes: it receives the distribution of your Win rewards when you run your node and support the network, it holds Connect Pay rewards, and it enables you to make purchases through Connect.
By having a Connect wallet, you can conveniently manage and utilize your Win rewards, access Connect Pay rewards, and engage in transactions within the Connect ecosystem. In addition to holding rewards like IZE, SWITCH, PXL, and more, your Connect wallet serves a broader purpose. However, it's important to note that brand-specific rewards are not distributed to your Connect wallet. Instead, they are exclusively distributed to their respective brand wallets. To collect your daily distribution rewards for these brands, it is necessary to create a brand wallet at each of their individual websites.
By setting up the appropriate brand wallets, you can ensure that you receive the specific rewards associated with each brand you are engaging.
Where do I go to set up my Brand Wallets?
Switch - switchrewardcard.com
Galvan - galvan.health
Element - elementunited.com
UpLevll - pixll.pro
Liberty - app.libertyblockchain.com
Give - giveblockchain.io
Nerd - app.nerdunited.com
Once you have created an account, you will be prompted to set up a brand wallet.
IMPORTANT: To effectively support different blockchain networks, it is necessary to have a specific brand wallet corresponding to each node brand you own and operate. The rewards earned from running these nodes are distributed to the respective brand wallets by the specific blockchain. It's crucial to set up the appropriate brand wallet because without it, you won't receive the digital rewards associated with the brand node you're running. It's important to note that these rewards cannot be replaced or received retroactively. For instance, if you purchase Element nodes from Connect, you must have an Element brand account equipped with an Element wallet to receive Element digital rewards from the decentralized Element Blockchain.
Will my Rewards Show up in Connect?
Once you have created an account and wallet for each brand, and linked them to your Connect account, you will be able to see your rewards in the Blockbot report, which can be found at connectunited.com.
For instructions on linking your accounts, click here.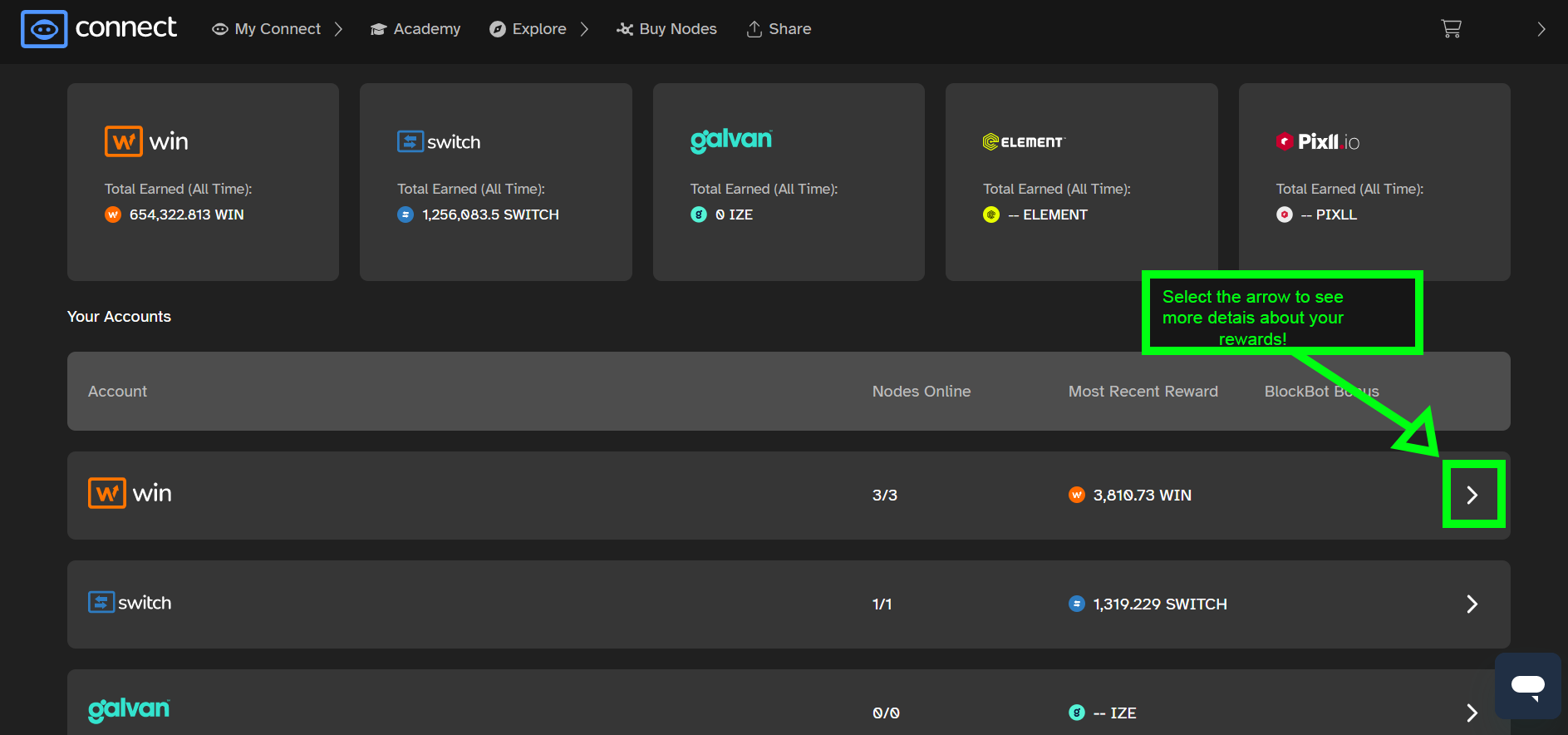 Note: The Blockbot Report may not display some brand digital rewards as they are undergoing updates. During these times, you can visit the unique websites dedicated to those brands in order to view the digital rewards you have earned.